Putian Xianyou People's Congress application Restmoment electronic conference system
Putian Xianyou County is located in the eastern coast of Fujian Province, Mulan River, the upper reaches of the county, east of Putian City, west of Yongchun, Dehua, south of Hui'an, Nanan, Quanzhou Licheng District, North mediated Wing Tai, southeast of Meizhou Bay, suffer a natural harbor Xiuyu port, then Xiao Chuo port. The total population of the county is 1.12 million, accounting for 1/3 of the total population of Putian City. There are more than 200,000 overseas Chinese and overseas Chinese, mainly distributed in 34 countries and regions such as Indonesia and Malaysia; more than 60,000 compatriots in Taiwan, Hong Kong and Macao. Putian Xianyou County, the Seventh Session of the Standing Committee of the third meeting of Restmoment electronic digital all-wired conference system.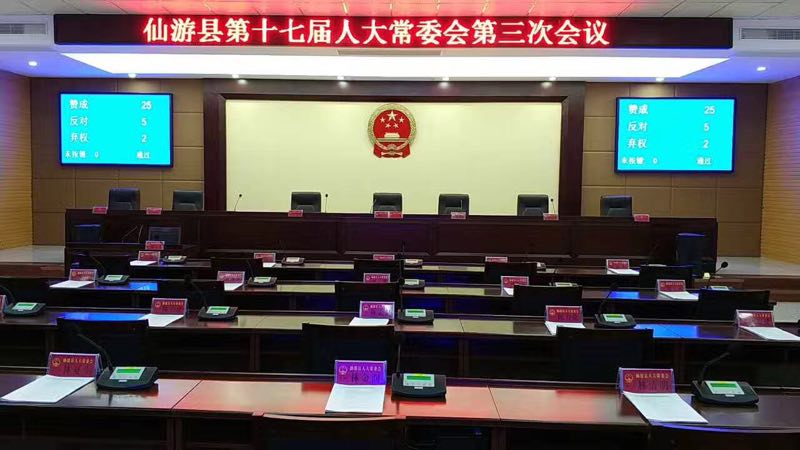 Restmoment digital multi-function conference host RX-V2.2 ,Restmoment ADCS conference system is the core component, which is achieved with the meeting unit and PC management software function module interoperability an important bridge through the front panel five-dimensional navigation keyboard, with 2.8-inch LCD display, you can achieve the discussion of speech, automatic video tracking, voting control functions for centralized control, is the preferred product for large and medium-sized meeting. Restmoment RX-3500 multi-functional desktop conferencing system, is developed for the modernization of the conference set discussion, sign, vote and other functional conferencing unit, using Restmoment's original full digital conferencing technology, in line with IEC60914 international standards, all-digital audio processing And transmission technology, point-to-point access, long-distance transmission of sound quality will not be decayed, the distance between the devices up to 150 meters, built-in IC card reader, IC card check-in support, on behalf of identification, IC card key and set the display language And other functions.