Jilin International Animation Game Forum --- Restmoment digital simultaneous interpretation was the truth
Name: The Second China Changchun Culture and Art Week of Northeast Asia opening ceremony and China Jilin International Animation game Forum.

Date: September 2~4, 2011

Place: Jilin College of Animation Culture and Art Center

Attendance: More than 10 leaders Include Chinese Vice Minister of Culture Ministry, CFLAC Vice President, CPC Jinlin Provincial Secretary, Vice Secretary, Governor, Minister of Propaganda, and Around hundred of animation specialists and thousands of animation students from more than 20 countries such as America, France, Japan, Korea, Russia, Australia and so on.

Equipment: Restmoment 1110 seats Infrared simultaneous interpretation system, discussion and video tracing conference system and programmable control system.
The Second China Changchun Northeast Asia Culture and Art Week revealed the veil of " Multiple colorful·Harmonious Sharing" on September 2, 2011. As the core content of cultural exchange section on the 7th Northeast Asia Fair, held by Ministry of Culture, China Federation of Literary and Art Circles, People's Government of Jilin Province, Changchun Municipal People's Government , undertaken by Propaganda Department of Jilin province, Jilin Animation college, the Second Culture and Art Week of Northeast Asia Fair and China Jilin International Animation game Forum opened in Changchun, Jilin province during September 2~4. Around hundred of animation specialists, influential academics and people working in the animation industry from more than 20 countries were invited to this forum, which included Nielsen, president of World Animation Association, Sadao Tsukioka, President of Japanese Animation and Comics association. Eric Revell, Ex-chair of animation department of French Gobelins Animation College, Rolf Jason, German Film Museum director, Ouyang Yibing, Executive Vice President of China Animation Association, Xiao Yanzhong, cartoonist from Taiwan, China. Deeply and broadly Exchange and discussion were among those people about creative Ideas, Artistic Innovation and Marketing management in the field of animation, comics, game, advertising and media in difference countries of the world.

According to the Jilin Animation College, we made the following design for the Video & Audio equipment project of the culture and art center: First this conference center is designed into a multi-function room have video and audio Presentation, auto video tracing, Simultaneous Interpretation and Infrared receiving function. All of the equipments are controlled by wireless touch intelligent control system. The multimedia conference room of culture and art center is required to be brought into full play to ensure it become a vivid, smoothly and visualization conference.

With the development of digital conference technology, live sound amplification and playback technology, Audio signal processing technology, wireless conference technology, projection video display technology and integrated control system technology, Advanced and practical conference PA system are widely used in enterprises and public undertakings, government agencies. In the whole design, our company focused on system of science, equipment of advanced, function of practical and the use of reliability, to make the PA system standard for national A level and the video display first class effect. The equipment we used and the system design are advanced. The sound system and image display design specifications to meet and exceed existing relevant national standards. Meanwhile, as an important venue, security and reliability of the system is undoubtedly the most important. It will outweigh the benefit if goes in for advancement. Thereof, in considering the overall system, our design is on the basic of many conferences room. To take into account the remote conference, discussion, presentation, Simultaneous Interpretation teaching, report and Internal Management exchange hold in the center, our company build up a most advanced, technology mature and most cost-effective center to meet the requires.

Culture and art center of Jilin Animation College consists of projector display system, multimedia audio signal source, sound system and central control system. Equipments include Restmoment RX-M8000 programmable control system, RX-MA0808 series AV matrix, RX-MR0808 series RGB matrix, RX-PM8000 8 lines power supply controller, RX-TS8000/68 wireless color touch screen, RX-RF8000/8 wireless RF receiver, RX-M3500 conference controller, RX-V3500 video tracing controller, RX-C3500LI/D3500LI chairman/delegate unit, RX-TV320 high speed doom camera, RX-M9008 simultaneous interpretation controller, RX-E9008 dual-interpreter, RX-M004XP infrared controller, RX-H004XP infrared radiator, RX-E004XP infrared receiver and RX-CB072 receiver charge case. We also choose advanced DVD player, large screen projector with Restmoment control system to equip the center with signal switching, light and volume adjusting function. People have no professional knowledge can manage all equipments, which increase working efficiency and simplify the operation, saving a lot of human and financial resources.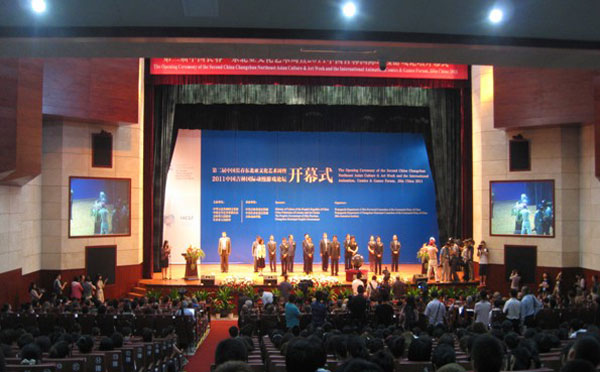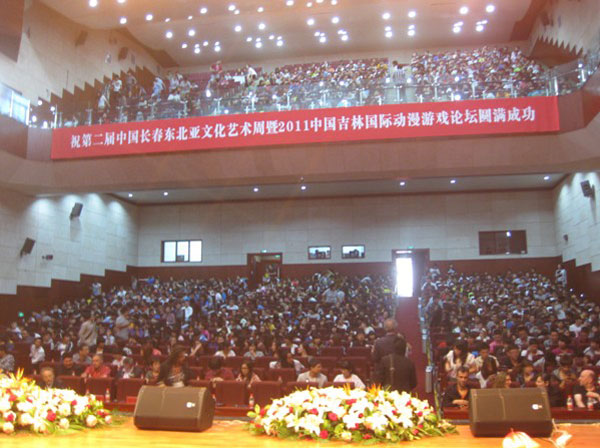 There are total 4 channels opened in simultaneous interpretation system of this conference which is Chinese, English, Japanese and Korean. With 100% signal coverage, Restmoment infrared simultaneous interpretation system properly solved the Language barriers. Closing CD sound quality was favorably commented by the leaders and guests.